REŸS was born from a summer dream
In a dream, I saw myself being served gelato with the conviction that it was my job. Two nights later, a new dream: the word "REŸS" appears and a voice says "that's the name of the gelato".
These 2 dreams took place in July 2020, during my vacation. In August, I went to Tuscany to learn the art of Gelato from an Italian master, then I created REŸS Glaces Éternelles brand.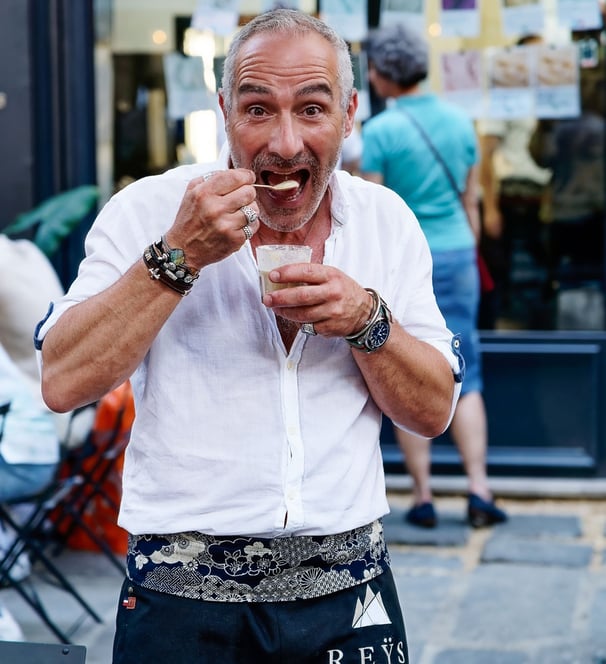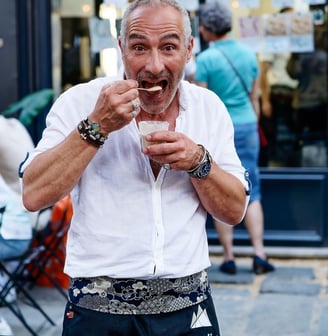 Traditional craftsmanship
Two weeks after these 2 dreams, I left for Tuscany to learn the Art of Natural Gelato from a renowned Gelato Master.
In Italy, they have a guide called "Gambero Rosso" (equivalent to our national Michelin Guide) but this one is specialized: one for restaurants, one for pizzerias, one for ice cream parlors.
So I met one of the rare Gelato Masters who has had 3 stars (they are Gambas in Gambero Rosso!) for several years. A Master, "Sensei" you would say in the martial arts that I have practiced for a long time.
He taught me how to think about a flavor, write a balanced recipe and make a gelato whose texture and taste will be exactly what we were looking for when imagining the new flavor.
We all love gelato. With rare exceptions, everyone loves and eats gelato regularly. You can easily find good ice cream parlors… and not so good ones. But it is so rare to discover new flavors, to be surprised by a mouthful of gelato.
So the idea very quickly came to me that I needed to move away from classic tastes, work on gelato recipes as I would work on a cooking recipe, or a perfume in fact!
Invent perfumes that create emotions, that take you on a journey, that bring back beautiful memories. REŸS based itself on these 2 fundamentals:
100% natural and artisanal quality,

creativity put at the service of emotion and meaning.
100% Artisanal
No elaborate industrial ingredients, we make everything with our little hands.
100% Natural
No flavoring, no coloring, no preservative, REŸS gelato is pure & real.
100% Love
The pleasure of creating and serving, our gelato is good for the body and the heart.
Because the container is just as important as the content.
We strive to replace, wherever possible, plastic and any polluting materials such as varnishes and industrial glues, with healthy and biodegradable materials.
Preserving the natural origin of the ingredients that allow us to produce such good products also leads us to ensure the preservation of nature, biodiversity and the sustainability of the wonders that surround us.
Packaging, particularly in the world of negative refrigeration, is a very complex subject. We work to obtain the cleanest packaging possible. Currently, each container is generic, made from cane pulp, recycled paper or 100% plant-based "plastic" and we offer you a durable and reusable insulated bag. We have banned all disposable materials based on plastic, hydrocarbons or false promises.
As it develops, REŸS will engage in actions to safeguard the natural ecosystems of which we have always been a part and which have been entrusted to us.